I didn't even think of wearing scarves until a couple of years ago. I went through a phase where I fell in love with Love Quotes scarves and started collecting them. I found that when I threw on a scarf, I looked instantly more dressed up. There was one time I wore just jeans with a normal black coat, threw on a red scarf, and everyone at work was like "why are you so dressed up today?" I thought, "really? I didn't even do anything besides wear this scarf…" So, now I own a ton of scarves. They're such a great accessory, and especially seasonally-appropriate for the upcoming cold months. Here are some of my current favs:
Ralph Lauren "Jessa" Plaid Scarf – Siberian Red – $58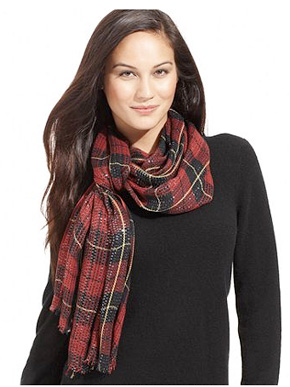 Ralph Lauren "Jessa" Plaid Scarf
Not only do I love plaid shirts, I love plaid scarves. They just look so cozy and wintry/holiday-y for Fall/Winter. Reminds me of winter nights at a log cabin by a fire. Mmmm….Not every plaid is cute though. Most are boring. I love this color combination here — deep red and green with dashes of yellow. Not to mention the sparkles! Too fun. So perfect for holidays. Get it here from Macy's for $58.
Lord & Taylor Tartan Plaid Scarf – $39 (on sale from $58)
Lord & Taylor Tartan Plaid Scarf
Who knew Lord & Taylor could produce such cuteness? This reminds me of a wool tartan wool mini skirt from J.Crew a few years ago. Tartan plaid is one of my favorite patterns in the world — and I'm particularly a fan of white-based plaid. So cute, so chic, so cozy. Get it here from Lord & Taylor for $39.99.
Banana Republic Striped Infinity Scarf – Black – $49.50
Banana Republic Striped Infinity Scarf
Recently, I've been seeing a lot more of these "infinity" or "loop" scarves. They're brilliant. How many of us struggle to make our scarves look perfectly fluffy and casual on us? It may look nice in the mirror at home but sure won't stay that way all day. There are videos online of how to tie a scarf because it's such an issue. I usually just put them on backwards then pull the two ends to the front, which then just flap all about if there's any wind. Now these "infinity" scarves are easy to just pop on and they're already pre-fluffy and effortlessly chic — and sure to stay that way all day. This one is classic with a twist — not just navy, not just striped, but variations of them with a touch of nautical chic. Love. Get it here from Banana Republic for $49.50.
Ann Taylor Loft Rugby Stripe Loop Scarf – $34.50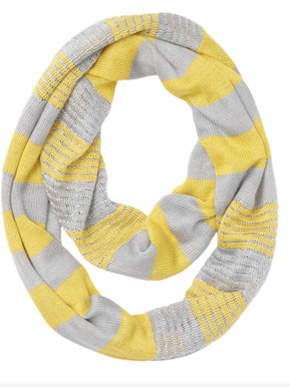 Ann Taylor Loft Stripe Rugby Loop Scarf
The other "loop" scarf I found that I like. Grey and yellow is not a common color combo, but grey with any bold or cheery colors is quickly becoming a trend I love. The variations in thickness of the lines also adds some visual interest. Get it here from Ann Taylor Loft for $34.50.