The Chunky Tweed Mini Skirt from Ann Taylor Loft is the quintessential Fall/Winter skirt. There is just something so warm and cozy but chic about this houndstooth-ish tweed skirt. I absolutely adore it and can NOT wait to wear it!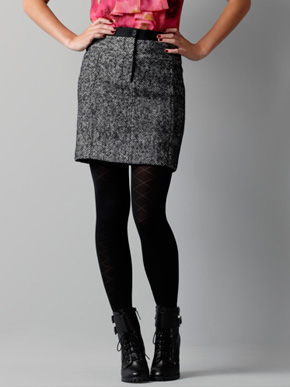 I was surprised at how thick/heavy and literally warm this skirt is. It also buttons in the front, which is a first for me with skirts. Definitely not a Spring/Summer skirt…
I'm wearing: Banana Republic Silk Cascade Ruffle Shell, Tory Burch Julianne Wedges
I sized up a size because I saw how far up this skirt sits on this model. It still fits smaller than I would imagine and doesn't sit as low as I had hoped. Instead of hitting at low waist, I had hoped it would hit more at the hip. So I would say this skirt is probably running one size small. Could be just me. Here's a pic of where it's sitting:
You will probably see this skirt a lot in my pictures because it matches everything and is just so cute!
Get it here from Ann Taylor Loft for $69.50.