Did I mention that I love plaid? I don't remember how the attraction started, but I love its concurrent earthiness and playfulness…very country-chic and "borrowed from the boys." Ha. Combine that with my favorite merino wool and you have a winner – J.Crew's Plaid Boyfriend Cardigan.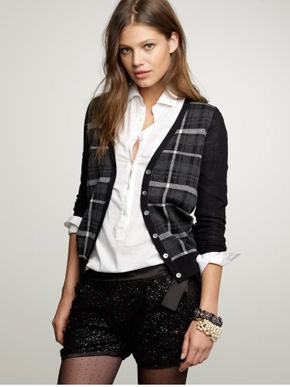 I had high hopes for this one, but it did not turn out to be a winner for me. For some reason, the cardigan turned out to be more boxy than I expected and anything I tried with it seemed kind of matronly and stuffy.
I'm wearing: J.Crew Calista Cami, Banana Republic Braided Belt (similar here), J.Crew Denim Pencil Skirt, Matt Bernson Bo Peep Espadrilles
The material was nice and weighty though. But soft. My kinda fabric for sweaters. I took a Medium in this and I'd say it's true to size. I tried a more casual, playful look to see if I can lighten up this sweater.
I'm wearing: A&F Graphic Tee, J.Crew Paillette Mirage Tweed Mini, Steve Madden Intyce Boots
I guess it is cuter when you pair it with something very girly and sparkly, just like they did in the stock photo. But c'mon, how often am I going to wear something super girly and sparkly like this? Especially to work? Yeah, not going to happen. This one was not a keeper for me. Just my personal preference though; I can definitely see how this would be super cute on someone else!
Get it here from J.Crew for $88.