Weekend is over. Boo. Hope everyone had a relaxing one. I bought a bunch of Loft clothes recently due to their slew of great promos; I'm on the fence about a few. The Striped Sweater with Corsage from Ann Taylor Loft is one of them.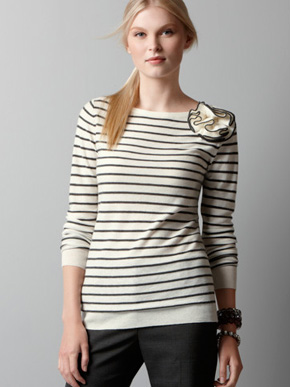 I know, it looks plain in this stock photo. I bypassed it too, until I saw it styled in one of their other photos that was fleetingly on the site. This sweater is cut a little long, so it looked unbelievably cute paired with a chunky tweed mini and belted at the hip with a wide cognac-colored belt. Throw in some tights and you got the cutest Fall/Winter outfit. Well, it is just as cute in person, and much softer and more comfortable than I expected. I discovered it's even machine washable, so big bonus on that. But I think it may be a tad too small on me for the style I'm going for. I wanted to go for a slightly looser, boyfriend sweater type of look to drape over a shorter skirt. Instead, I think my usual size just made this a typical sweater for me.
I'm wearing: J.Crew Metallic Moss Jacquard Skirt, Ann Taylor Loft Wide Braided Belt, Bandolino Shiante Boots
Plus it was slightly tight on the arms. I think my arms must have been getting fatter because recently I've been trying on clothes in my usual size that fit me great everywhere but tight in the arms. Grrr. Let's stop talking about that. Anyway, I'm not sure about this one. I think it's cute but it wasn't exactly what I expected in terms of fit and I'm starting to second guess whether I can pull off a "corsage" at the shoulder. What do you guys think?
Get it here from Ann Taylor Loft for $59.50.